Events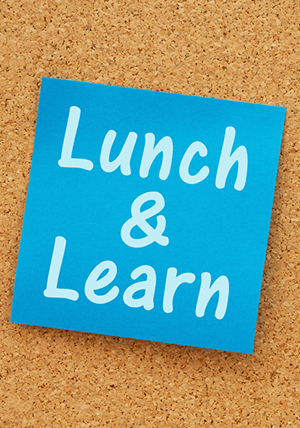 Landlord Lunch & Learn
Open to all area landlords free of charge, Lunch & Learn is held in the Community Engagement Room at MSTC in downtown Stevens Point.  Use the main entrance on the North side of the building.  Attendance is also available on-line by Zoom.
The program starts promptly at Noon and ends at 1:00 p.m.  Arrive a few minutes early to pick up your lunch and find a seat.
Due to COVID, space is limited so reservations are required.
Email cwaa@cwaaonline.org for reservations.
Upcoming Landlord Lunch & Learns:
September 9, 2020 - Assistance Animals
It's Not a Pet:  What you can ask & What you can't ask; No Pet Fees – Remember, It's Not a Pet!
Service Animals:  Legal Definition & Applicable Laws
Emotional Support Animals:  Legal Definition & Applicable Laws
Forms to Keep it Legal & Avoid Improper Requests:  Request of a Reasonable Accommodation; Verification of Need for a Reasonable Accommodation; Lease Addendum & Rules
Date To Be Determined - Evictions
Proper Legal Notices in Wisconsin:  Using the Right Form at the Right Time & in the Right Way
Step-by-Step:  Eviction Procedures for Portage County; Don't Lose in Court due to a Technicality
Prior Lunch & Learn Topics:
Landlording 101 – Part One - What you need to know to stay out of trouble – Legally & Financially
Marketing Your Rentals:  On-line resources – Free & for a fee; Old-school – Signs, bulletin boards & housing fairs still work; Words matter – Attracting the best tenants while avoiding fair housing violations.
Screening Prospective Tenants:  Setting your criteria – in writing & consistently;   Avoid evictions now, it's cheaper! – Refusing a bad tenant legally; Fair Housing rules – Avoiding discrimination claims.
Landlording 101 – Part Two - More things you need to know to stay out of trouble – Legally & Financially
Keep it Legal:  Local Ordinances, Programs & Standards; State statutes every landlord needs to know
Legal Notices:  Proper use of forms - Collection of rent & lease violations; Evictions – Don't lose because you didn't know proper procedures
Lease-End Best Practices
Move-Out Procedures:  Proper notices on lease non-renewal for landlord or tenant
Security Deposit Returns:  What can be deducted & what can't; Timeline & mailing procedures
Re-Renting:  Showing an occupied unit; Maintenance – Getting it all done in a short amount of time
How to Mediate
Solutions for Helping Tenants Solve Roommate Disputes:  Don't let it become your problem
Playing Peacemaker in Tenant/Neighbor Conflicts:  Keeping lines of communication open; Avoiding city involvement
Understanding what the Landlord's Responsibility is, and what it is not:  How to communicate your responsibilities & restrictions to others
Housing Fairs - due to COVID19 housing fairs are cancelled for the 2020-2021 school year
UWSP Student Housing Fairs are held in the Laird Room of the Dreyfus University Center each year on the first Tuesday of October and the last Tuesday of February.
Attendance is free to all CWAA member landlords.
Each landlord is provided with a table for display items and handouts.  This is a great opportunity to chat with students and show them what you have to offer in Off-Campus Housing.
Networking
The annual CWAA Family Picnic is held in August at a local park.  This is a great time to talk with other landlords and learn their tricks of the trade.
Everyone can learn from one another.  Experienced landlords, who have seen it all, share tips with new owners.  Younger members, who have new ways of doing things, share the latest gadgets and on-line tools.
Looking to Buy?  Wanting to Sell?  You may find your match at the CWAA Family Picnic!
The CWAA Holiday Party is held in January.
Do your friend's eyes glaze over when you talk about your rentals?  Do they think you are crazy when they hear your latest tenant problem?  Ever wish you could talk to someone who will understand?  You have found us!  CWAA members will think you a fascinating conversationalist.  They will soon be one-upping you with tenant stories, and giving you helpful tips.
Share a delicious meal and great conversation with others in the rental business.  Time well spent.